OUR RESEARCH
Ecosystem Collapse
Ecosystems around Australia are collapsing, including loved icons like Queensland's Great Barrier Reef and wet tropical rainforests.
Eminent scientists are sounding a stark warning that key ecosystems around Australia and Antarctica are collapsing and are calling for rapid and concerted action to avert catastrophic biodiversity losses.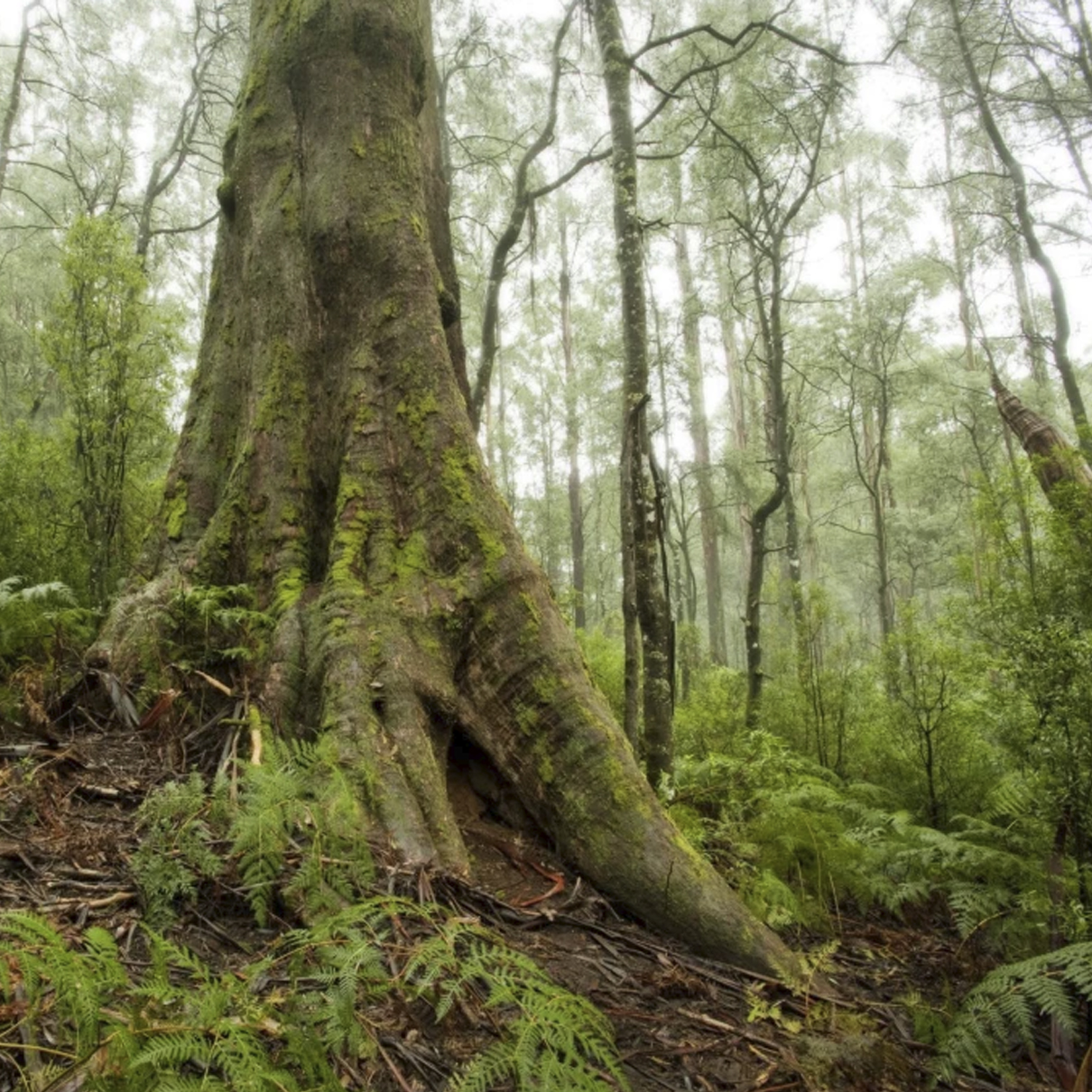 Mountain Ash in the Toolangi State Forest. Photo by Brent Lukey
The report, authored by 38 scientists from universities and government agencies in Australia, the UK and the US, has been published in the journal Global Change Biology.
The study was led by Dr Dana Bergstrom who has documented rapid, widespread dieback in the subantarctic tundra of World Heritage-listed Macquarie Island and who started wondering if this was happening elsewhere.  Study co-author Dr Justine Shaw from the University of Queensland said that despite working in vastly different regions, scientists around Australia are observing signs of ecosystems collapsing.
We documented evidence of collapse across ecosystems from tropical savannas and rainforests, to coral reefs, deserts, and even Antarctic environments.  We examined the state and current trends of 19 different ecosystems — spanning 58° of latitude across 7.7 M km2, from Australia's tropical coral reefs to terrestrial Antarctica. All are collapsing. Ecosystems are experiencing multiple pressures simultaneously, either chronically (e.g. increasing air temperatures) and/or as extreme, short events (e.g. storms, fire) with their deterioration exhibiting a range of patterns. Knowing these patterns can alert conservation managers to impending collapse. We showed that the key global climate change presses driving ecosystem collapse are changes in temperature (18 ecosystems) and precipitation (15 ecosystems), and key pulses are heatwaves (14 ecosystems), storms (13 ecosystems), and fires (12 ecosystems). In addition, each ecosystem experienced up to ten (median 6) regional human impact pressures presses and/or pulses (see Fig. 1). Habitat modification or destruction has occurred in 18 ecosystems, often at substantial levels, but over a relatively small spatial scale in the Antarctic ecosystem.  In recent years, pressures have become more severe, widespread, and more frequent. Nine ecosystems have recently experienced presses or pulses unprecedented either in severity or on spatial scale, relative to historic records (table S1). For example, heatwaves spanning >300,000 km2 affected marine and terrestrial ecosystems simultaneously in Western Australia in 2010/11.
Ecosystem collapse means these places are experiencing rapid environmental degradation and potentially irreversible environmental changes, including loss of important species and loss of functions, such as not providing the right nursery environments for juvenile fish. None of the ecosystems has yet collapsed across its entire range, but significant areas are rapidly degrading. Urgent action is needed to halt and reverse declines before we lose whole ecosystems.
Protecting these ecosystems is not only important for the plants and animals that depend on them but for humans as well. Healthy ecosystems provide healthy environments for people.  They are also important economically, with the Great Barrier Reef, for example, supporting over 60,000 jobs. These are unique and irreplaceable places. For example, Tasmania's ancient Gondwana conifer forests are the only place on Earth you will find majestic King Billy and pencil pines, which can be over 1000 years old.
The 19 Australian ecosystems showing evidence of ecological collapse.
Great Barrier Reef, QLD
Northern Australian Tropical Savanna, WA/NT/QLD
Mangrove Forests, Gulf of Carpentaria, NT/QLD
Wet Tropical Rainforest, QLD
Western-central Arid Zones, WA/NT/SA
Georgina Gidgee Woodlands, QLD/NSW
Ningaloo Reef (and adjacent areas), WA
Shark Bay Seagrass Communities, WA
Murray Darling River Basin — waterways, SA/NSW/VIC
Murray-Darling River Basin — riverine, SA/NSW/VIC
Montane and Sub-alpine Forests, SA/NSW/VIC
Great Southern Reef Kelp Forests, SA
South West Mediterranean-type Forests and Woodlands, WA
Monaro Tablelands, NSW
Snowpatch Herbfields, Australian Alps, NSW/ VIC
Mountain Ash Forests, VIC
Gondwanan Conifer forests, TAS
Subantarctic Tundra, Macquarie Island
East Antarctica Moss Beds
MEDIA
Scientists studying Australia and Antarctica have sounded the alarm on collapsing ecosystems, saying urgent action is needed to avert "catastrophic biodiversity losses" in places like the Great Barrier Reef and Victorian ash forests.
The 38 eminent scientists, from 29 universities and organisations…..  Read more here 
---
In 1992, 1,700 scientists warned that human beings and the natural world were "on a collision course". Seventeen years later, scientists described planetary boundaries within which humans and other life could have a "safe space to operate". These are environmental thresholds, such as the amount of carbon dioxide in the atmosphere and changes in land use… Read more here
---
THE PUBLICATION
Bergstrom, D.M., Wienecke, B.C., van den Hoff, J., Hughes, L., Lindenmayer, D.B., Ainsworth, T.D., Baker, C.M., Bland, L., Bowman, D.M.J.S., Brooks, S.T., Canadell, J.G., Constable, A.J., Dafforn, K.A., Depledge, M.H., Dickson, C.R., Duke, N.C., Helmstedt, K.J., Holz, A., Johnson, C.R., McGeoch, M.A., Melbourne‐Thomas, J., Morgain, R., Nicholson, E., Prober, S.M., Raymond, B., Ritchie, E.G., Robinson, S.A., Ruthrof, K.X., Setterfield, S.A., Sgrò, C.M., Stark, J.S., Travers, T., Trebilco, R., Ward, D.F.L., Wardle, G.M., Williams, K.J., Zylstra, P.J. and Shaw, J.D. (2021), Combating ecosystem collapse from the tropics to the Antarctic. Glob Change Biology. Doi: 10.1111/gcb.15539
---