Reports
.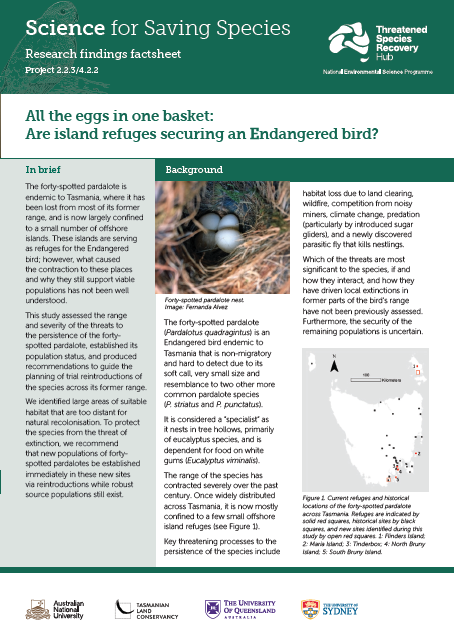 All the eggs in one basket: Are island refuges securing an Endangered bird?
The forty-spotted pardalote is endemic to Tasmania, where it has been lost from most of its former range, and is now largely confined to a small number of offshore islands. These islands are serving as refuges for the Endangered bird; however, what caused the contraction to these places and why they still support viable populations has not been well understood.
Download the full report pdf here
---
Australia's World Heritage islands: Overview of natural values and threats
Australia has four island groups listed as World Heritage properties, each with different geology, climate and biological values: Lord Howe Island, K'gari-Fraser Island, Macquarie Island and the Heard and McDonald Island group.
Download the full report pdf here
---
Using eDNA to track cryptic threatened burrowing petrels on Macquarie Island following pest eradication
This study used DNA from the scats and feathers from burrowing petrels on remote, sub-Antarctic Macquarie Island to determine the diversity of these seabirds on the island and to assess the use of environmental DNA (eDNA) for this type of application.
Download the full report pdf here
---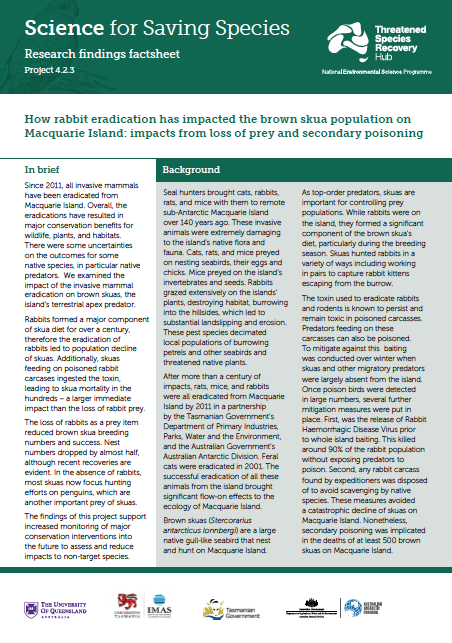 How rabbit eradication has impacted the brown skua population on Macquarie Island: impacts from loss of prey and secondary poisoning
Since 2011, all invasive mammals have been eradicated from Macquarie Island. Overall, the eradications have resulted in major conservation benefits for wildlife, plants, and habitats. There were some uncertainties on the outcomes for some native species, in particular native predators. We examined the impact of the invasive mammal eradication on brown skuas, the island's terrestrial apex predator.
Download the full report pdf here
---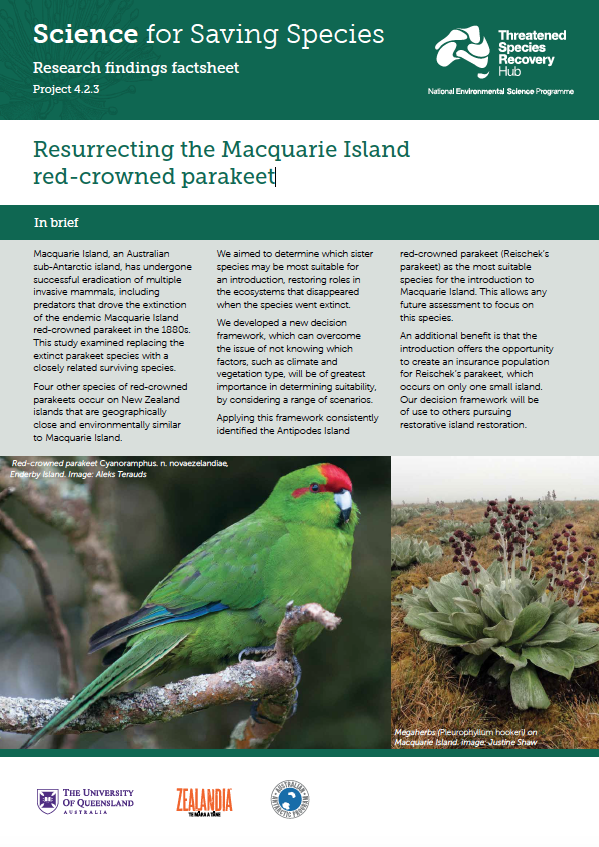 Resurrecting the Macquarie Island red-crowned parakeet
Macquarie Island, an Australian sub-Antarctic island, has undergone successful eradication of multiple invasive mammals, including predators that drove the extinction of the endemic Macquarie Island red-crowned parakeet in the 1880s. This study examined replacing the extinct parakeet species with a closely related surviving species.
Download the full report pdf here
---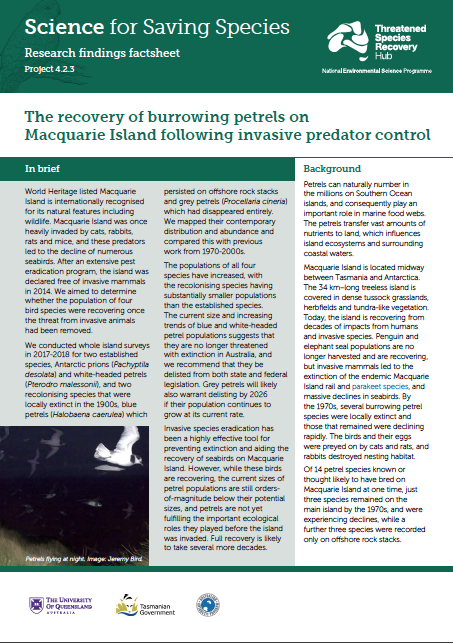 The recovery of burrowing petrels on Macquarie Island following invasive predator control
World Heritage listed Macquarie Island is internationally recognised for its natural features including wildlife. Macquarie Island was once heavily invaded by cats, rabbits, rats and mice, and these predators led to the decline of numerous seabirds.
Download the full report pdf here
---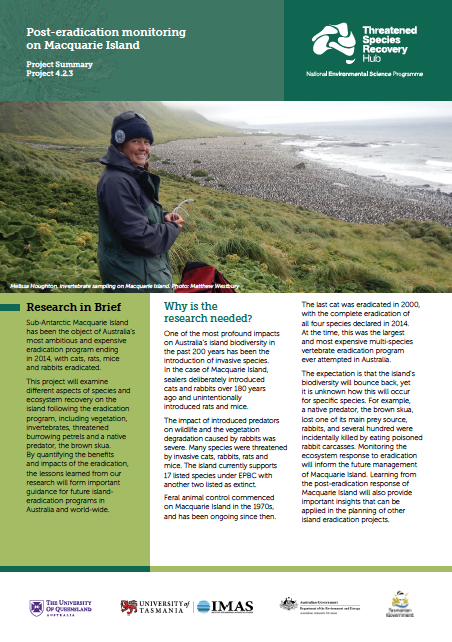 Post-eradication monitoring on Macquarie Island
Sub-Antarctic Macquarie Island has been the object of Australia's most ambitious and expensive eradication program ending in 2014, with cats, rats, mice and rabbits eradicated.
Download the full report pdf here
---